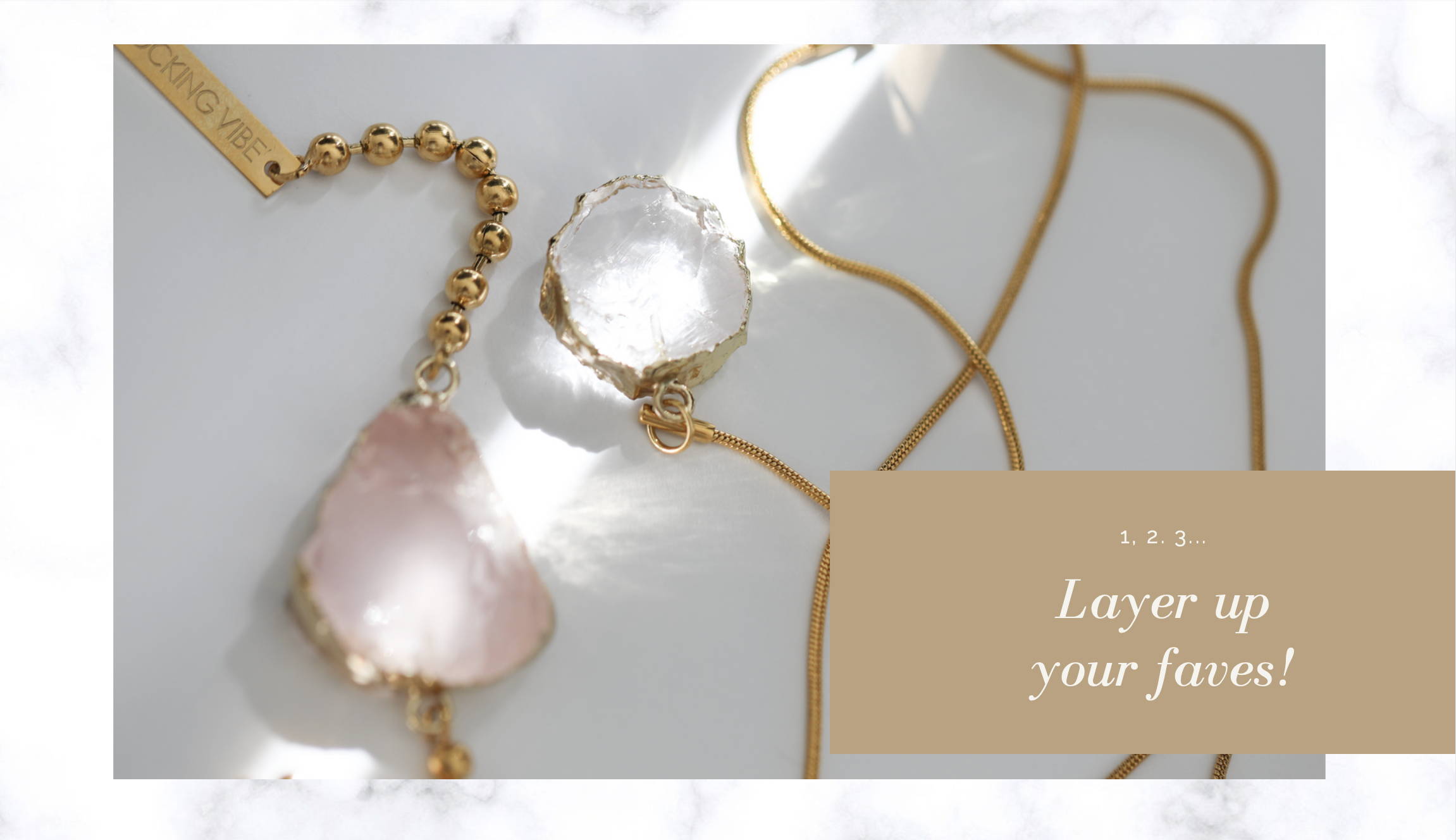 Let's have fun!
Synergy is undeniable and layering necklaces is a great way to express your personal style. But when layering ROCKING VIBE pieces, not only do you get to express your style, you get to combine crystals that amplify each other's vibration.
I have compiled some of your most loved combinations and the pieces that you most often mix together within your individual collection.
Enjoy!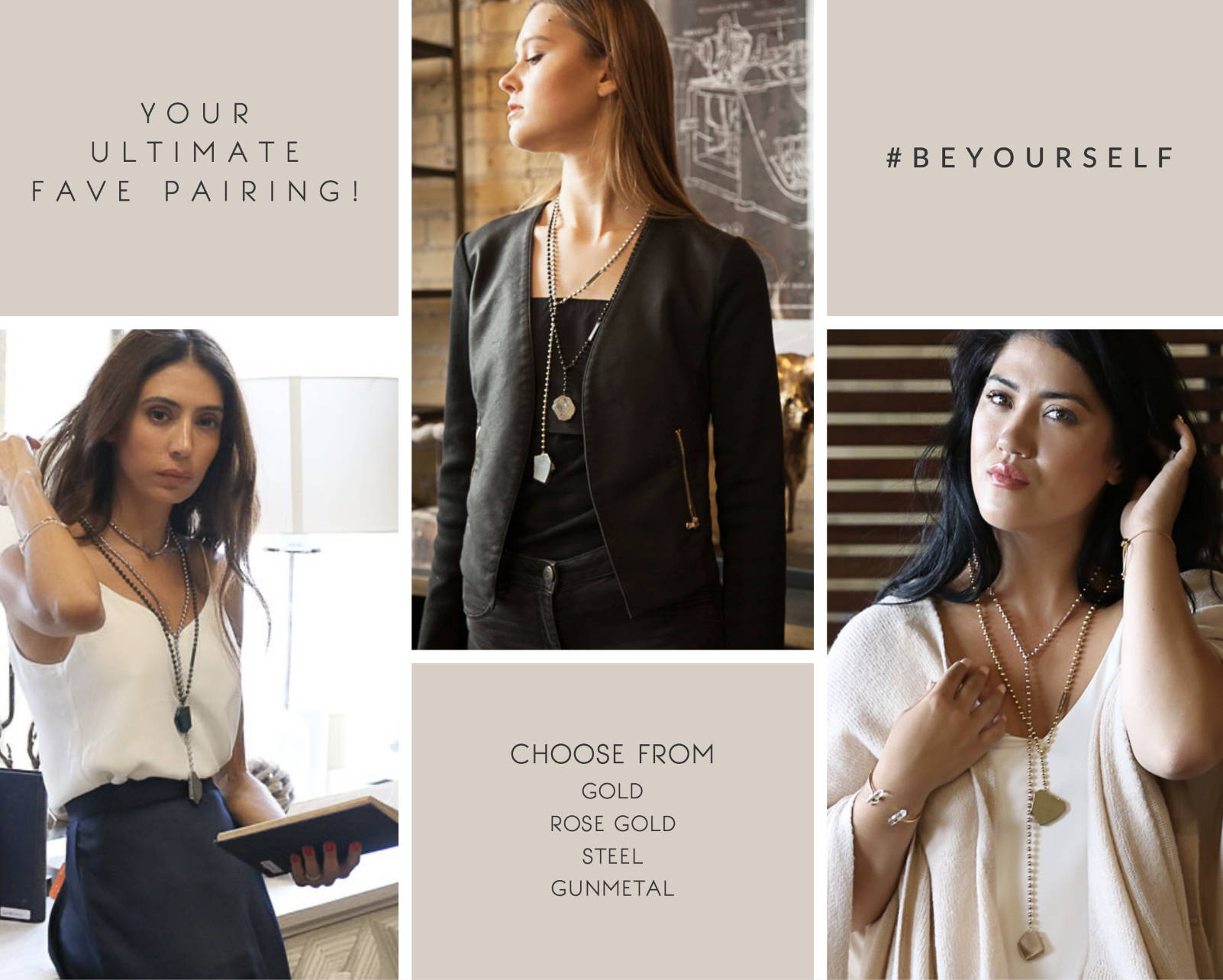 The BIA pairing is one of the most striking and eye-catching combinations as it offers a huge range of versatility. BIA is adjustable - so playing around with two of them gives so many options. And since the pendants are irregular, – each one is unique - just like you. Which means your look will never be reproduced by anyone else!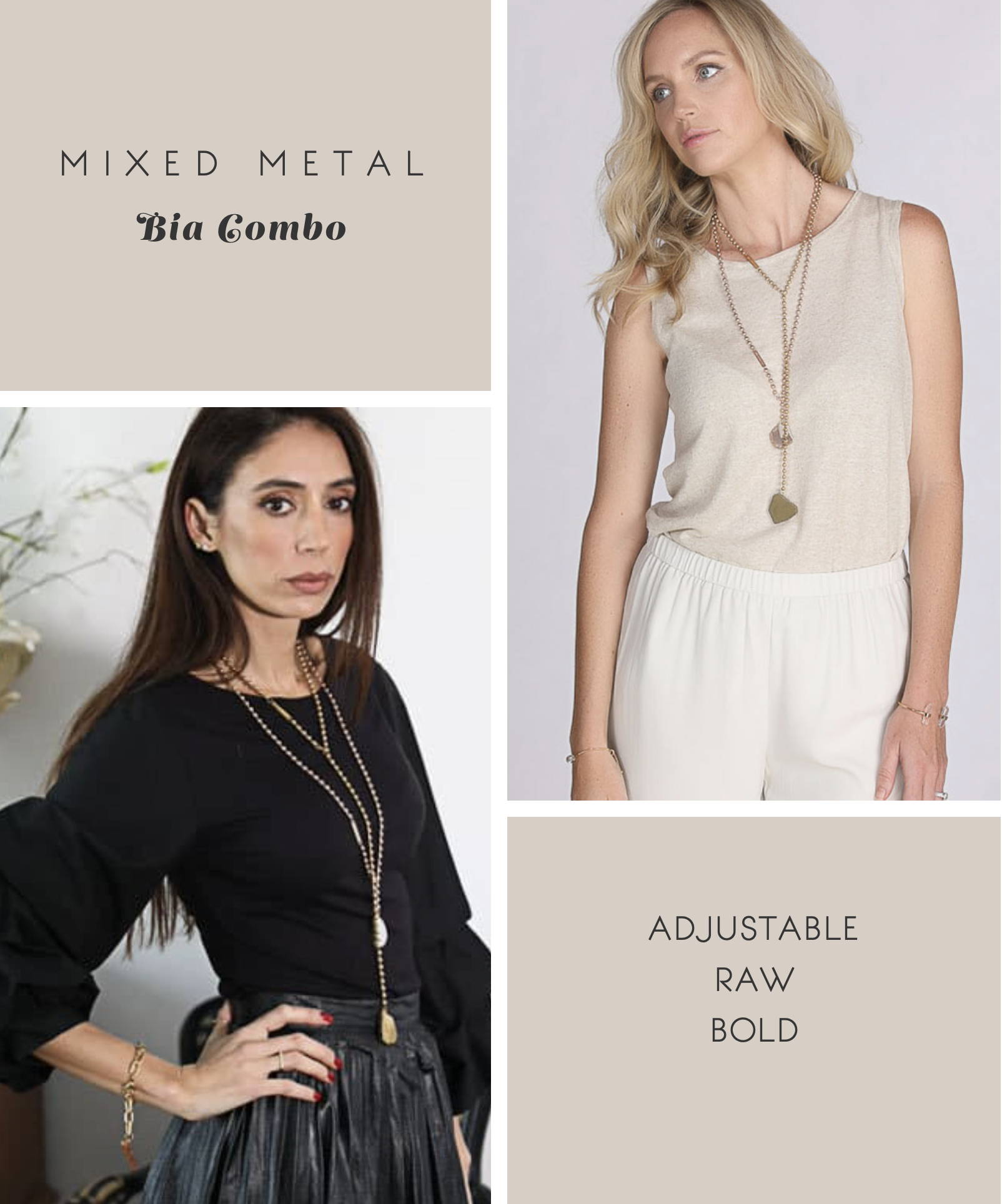 B I A - the Greek goddess of force and raw energy is here to help you own the night. Embrace the magic by unleashing your potential with BIA as your ultimate companion. When holding back is not an option - show up, deliver, and leave a lasting impression.
A captivating piece that will take you from day to night, BIA is an adjustable necklace with a titanium-coated polished quartz and unrefined edges.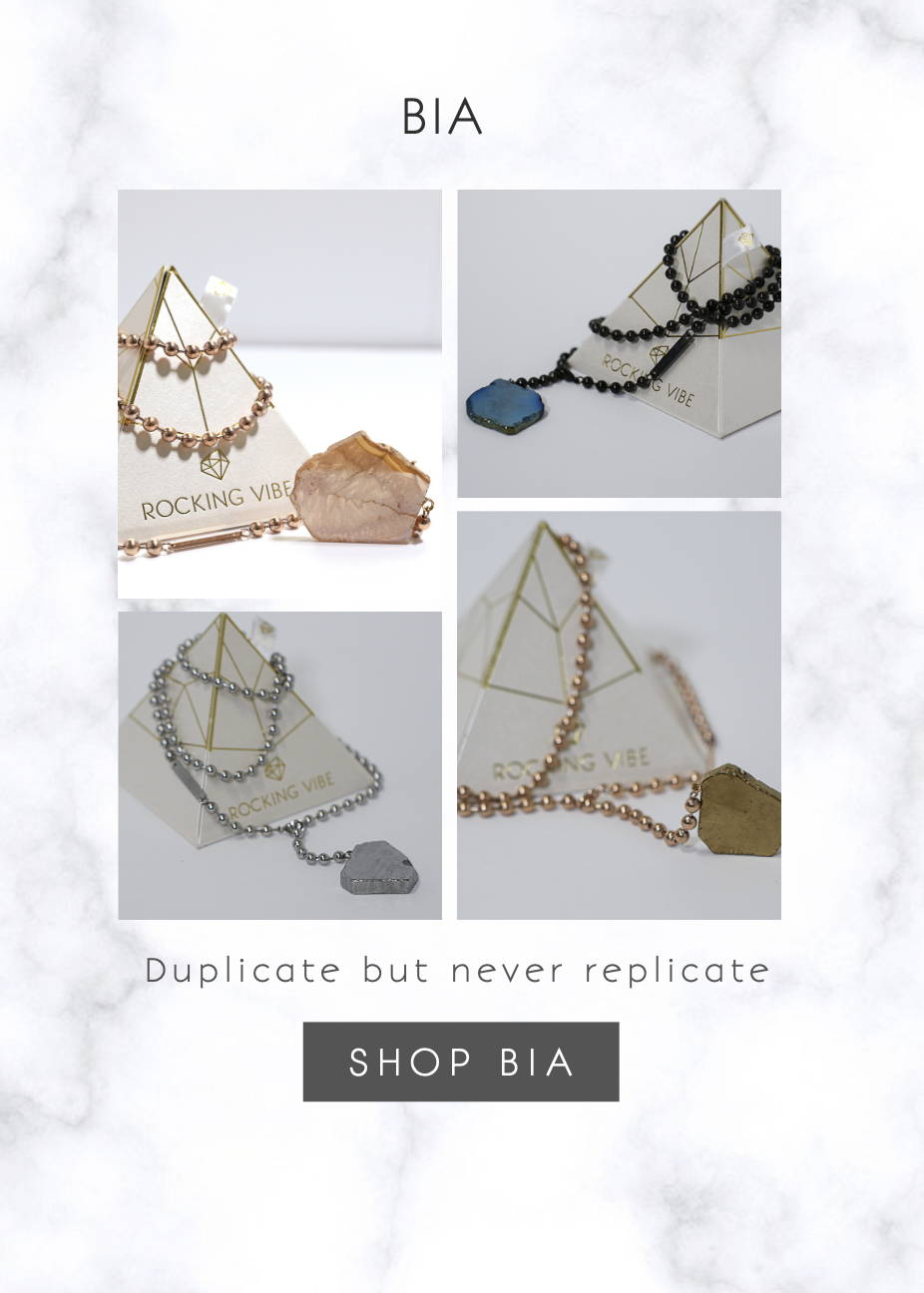 Clear quartz is my ultimate favourite crystal to work with and for a good reason. You can charge it with your thoughts and intentions, and it has memory! The more you give it power by holding it, wearing it, and embracing it, the more it will give back. And you know what's even better than one quartz – yep you guessed it - TWO or THREE or FOUR quartz!
Once you feel for yourself, I promise you will be hooked!
Earth and water – the elements that sustain us. Bringing those forces together close to your being is
P O W E R FU L .
C H O K E R S
M I N I M A L | P O W E R F U L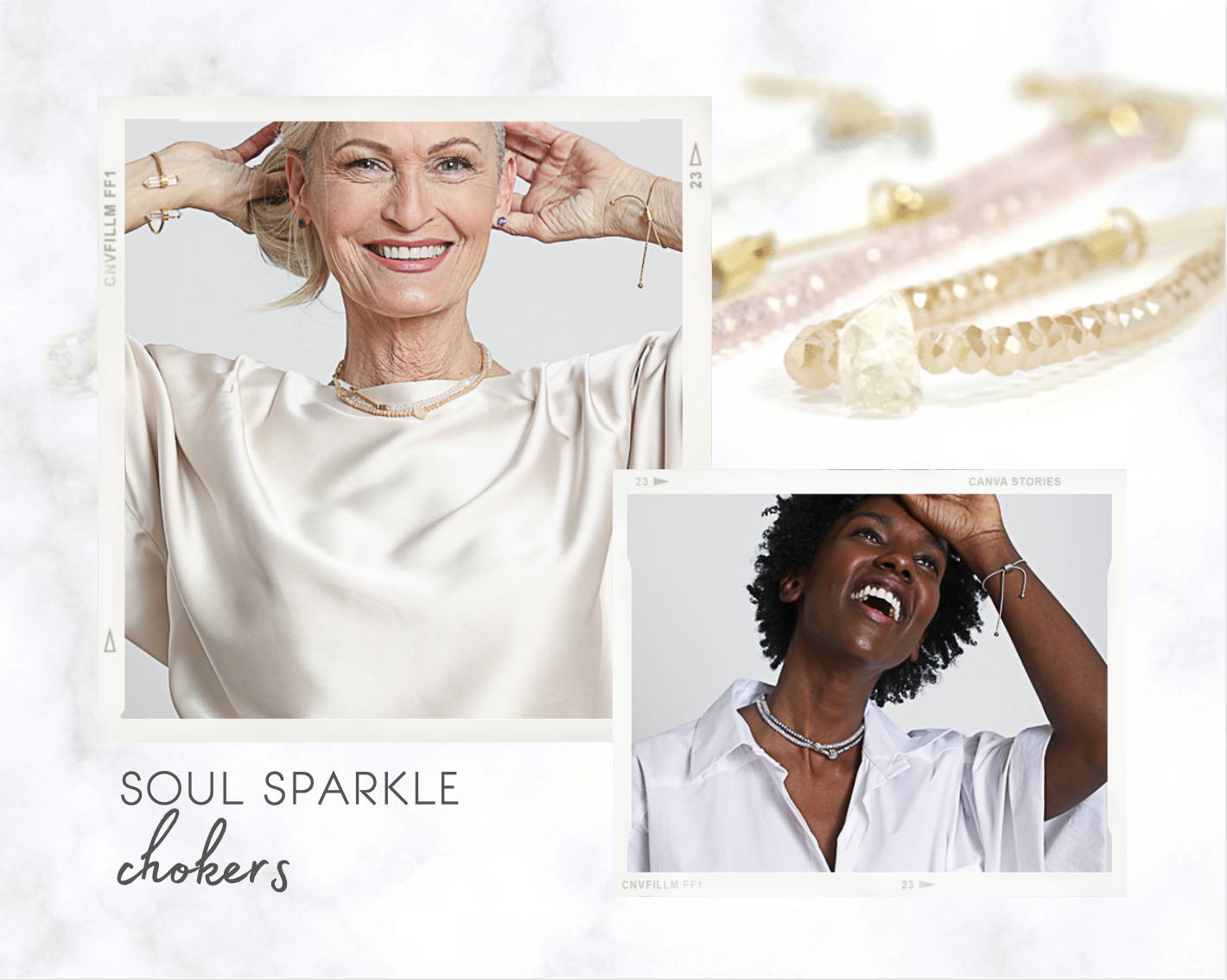 Propel your thoughts to become carefully chosen words and actions – both said and done with immense purpose. Each choker incorporates a unique geological element, which lies directly over your vocal cords. Find your voice and let it radiate out as the crystal adorns your throat chakra and amplifies its powerful vibrations.
Layer them up to look good and do good!
Even if you fear you won't be heard. Even if you're afraid of what may happen. And especially when you feel your voice trembling. Dig deep and stand up for what you believe in. The time is here. You are the master of your own destiny.
There you go!
These are some of the most popular ways that you are loving laying your ROCKING VIBE pieces! But you know what – there are not rules and the BEST way to pick your crystals is by using your own intuition.
And if you are just starting your collection and wanting to bring your first ROCKING VIBE pieces home below are three simple steps to help you pick the right ones for YOU – the ones that will serve you to their fullest potential and help you in your time of need.